MEGALANIA REVIEW PAGE
WONDERFEST '98
All images copyright Larry Dunn.

WHAT'S HERE:
A review of Wonderfest '98, a large sci-fi and fantasy modeling and toy show in Louisville Kentucky.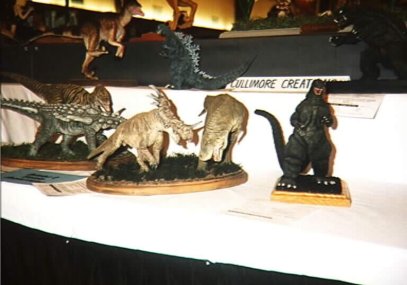 Some dinosaur and TOHO monster models in the contest at Wonderfest '98.
This Megalania page has been visited times since May 23, 1998.
I decided to take the epic journey from New York to Louisville, Kentucky to visit Wonderfest, the huge sci-fi and fantasy modeling show held yearly at the Executive West Hotel near the airport in Louisville. I'd heard about the show for years but had never been able to go.
A HIGHLY PERSONAL REVIEW OF THE WONDERFEST SCHEDULE
The show started on Friday with a series of fun and instructional hands-on seminars meant for the beginner and more experienced modeler alike. For instance, if you've never built a model before, you can build up and take a model with the help and suggestions of experienced modelers. If you've had your hands in the box before you can get tips from experts who produce superb results. If you want to try sculpting your own pieces there's a seminar for you too.
I'd have loved to go on Friday but was chained to the office. Alas, I didn't arrive 'til Saturday. Saturday is dealer day, and a good time to see the first submissions to the huge model contest. Models are displayed for public use in a few basic categories and are ultimately appraised by an elite staff of judges, with various awards going to the worthies. It's great to see these models, whether awarded or not -- as that nauseating woman on SEINFELD would say, "They're ALL winners!"
Saturday Night is movie night! Having gotten three hours of sleep and then traveled for seven hours, I went to my room and went to bed, but I've heard that the drive-in type movies (shown to the most enthusiastic audience on the planet) were fun.
Sunday was another dealer day, and the submissions to the contest were all finally in. Facing another seven hours of travel, I had to leave early.
THE VENDORS
Here's a link to a page dedicated to some of the vendors whose stuff caught my eye!

Wonderfest -- the Vendors
THE CONTEST ENTRIES
Here's a link to some of the contest entries: warning -- my dinosaur bias really makes itself evident here!

Wonderfest -- the Model Contest Entries
Page-relevant Links

Wonderfest's Website. Hopefully this will eventually be updated for Wonderfest '99 -- the tenth anniversary show.
Navigating Links

Back to Megalania Dinosaur Modeling Page

Back to Megalania Sci-fi and Fantasy Modeling Page

Back to Megalania Modeling Page

Back to Megalania Home Page