MEGALANIA SCI-FI/FANTASY MODELING PAGES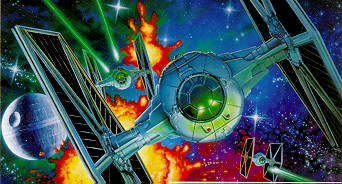 WHAT'S HERE:
Science fiction and fantasy-inspired models in resin, vinyl, styrene, or whatever other material the manufacturer can conjure up!
UPDATE: JUNE 5, 1998
This page is under massive construction, and probably will be for some time. Check back often for additions!
This Megalania page has been visited times since March 18, 1998.
NEW!

Dan Perez's Warrior Bug from STARSHIP TROOPERS -- an accurate kit of the ferocious, single-minded alien warrior!

A review of the Wonderfest '98 model show!

A review of Revell-Monogram's new Babylon 5 Starfury (whatever that is) by Steve Harvey!

AMT/ERTL provides a heavily armed Klingon Bird of Prey scout vessel that is actually not a horror to build!

Fiendish Frank Cahall, the "Fatman," unleashes a horrific dragon on an unsuspecting world! Lock up your daughters!
Navigating Links

Back to Megalania Modeling Page

Back to Megalania Home Page