Tony McVey's stunning 1/30th scale sculpture "In Pursuit" depicting a tyrannosaur. Image and model copyright Tony McVey.
Menagerie Productions is Tony McVey, a sculptor of amazing, truly inspired interpretations which make his subjects, fantastic creatures from fantasy, science fiction, and the Earth's past, seem marvelously alive. Tony has worked extensively in Hollywood, including on Return of the Jedi, producing maquettes for many now-familiar creatures.
Luckily for the modeler, Tony also decided to offer certain of his sculptures for the modeler and collector. Even more luckily for the dinosaur modeler, Tony's interest in dinosaurs influences his selection of sculpts!
Those familiar with the "garage kit" hobby (garage kits being limited-run sculptures, often cast in resin by the sculptor, of very discerning quality and usually of offbeat subject matter) agree that Tony does not passively mimic his subjects. When it comes to a subject from the movies, he adds something to it's appearance, making it seem much more alive than the original. (Of course, in saying this I mean no disrespect to Ray Harryhausen or other special effects pioneers). When it comes to dinosaurs, Tony brings a kind of virtuosity to his work that you just don't get anywhere else. The results are simply amazing. "Amazing" is a word you are about to see repeatedly, in fact.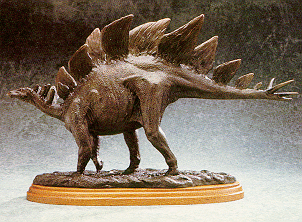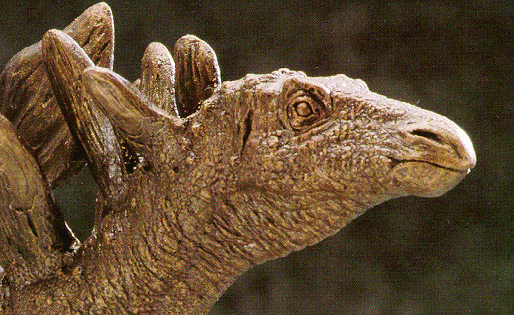 Above are two images of Tony's Stegosaur. These two pictures offer a good example of what you can expect from a Menagerie dinosaur sculpture: beautiful overall form and amazing detail at all levels.
The Carnotaurus sculpture Tony did for sale by Saurian Studios. This is a terrifically effective piece. The huge predator is picking at the corpse of a sauropod which seems to have drowned in a flood (or otherwise died and been deposited in mud) and which has already been heavily "worked over" by other carnivores. Tony gives us a convincing snapshot of life at a river's edge in South America tens of millions of years ago. It's a quiet, understated and intriguing diorama. Detail is amazing as always.
Tony has sculpted three tyrannosaurs: the one shown above (my personal favorite), a variation of the above also in 1/30th scale, and a 1/5th scale version of the modification. Yes, that's right: 1/5th scale. That's eight feet and $8,000 of model! These tyrannosaurs are the final word in evoking the sheer hunting potential of the tyrannosauridae. Just look at the way the above sculpture portrays the creature straining with every fiber to bring it's mighty jaws to bear. In my opinion, although its legs are both down, this 1/30th scale tyrannosaur is actually the most dynamic of the three: the leg-up version seems to be moving fairly slowly; this one surges forward. The 1/30th scale variation and the 1/5th scale model were once available through Saurian Studios; The Sharper Image was marketing the 1/5th scale Tyrannosaur as of this writing (March 1998) for about $6,000.
Tony has also sculpted a pentaceratops, a galloping triceratops, an apatosaur (the sauropod popularly known as Brontosaurus), and the giant Pleistocene monitor Megalania prisca (in a very limited edition of 30, for Saurian Studios). Look for my build-up of the Megalania in the future -- for obvious reasons! The Saurian Studios pieces (except the 1/5th scale Tyrannosaur) were, and perhaps still are, offered as resin kits; Tony has at one time or another offered others himself as either bronze casts or as resin casts with a bronze finish, occasionally offering the bronzes as limited-edition resins with a bronze-like finish. He has proven amenable to leaving off the bronze finish from the resins to assist the painter, thankfully!
These pieces are limited edition, so I'd recommend speaking with Tony to get a sense of what's available in which medium, from whom and for how much. The pieces are not inexpensive. They are worth every penny, though!
Tony does non-dinosaur subjects too -- busts of famous movie monsters (plus a few of Tony's own creation), as well as Menagerie interpretations of the Rhedosaur (the creature in The Beast From 20,000 Fanthoms), The Ymir (from 20,000,000 Miles to Earth), the Cyclops from the old Sinbad movies, King Kong and many other items. Once again, check with Tony to see what's still available.
I must say that no sculpture gives me the satisfaction I get from a Menagerie piece. They truly are art in that they make us feel when we look at them. Most highly recommended.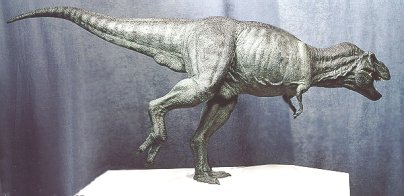 June 5, 1998: Tony has now made a large-scale Tyrannosaurus rex available to the serious collector. This piece was originally prepared by Tony for Dinamation, the robot dinosaur display makers. It's a 1/10th scale rendition of the great predator, hollow-cast in fiberglass-impregnated urethane and is provided built-up and painted to the highest professional standards. Tony will be providing each Tyrannosaur in a unique color scheme, so no two will be colored alike. At $5,500, this piece is for serious collectors of dinosaur art who will want to add this piece to their collection as soon as possible!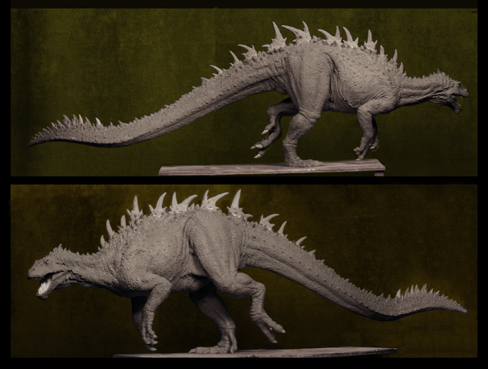 August 24, 1998 UPDATE: Tony has sculpted that most famous of all fantasy dinosaurs, Godzilla, interpreted as only he can with the trademark McVey virtuosity.
As you can see, Tony has done what the Centropolis guys failed to do -- he's given the Big G. a complete facelift, reflecting a lean, mean appearance, but at the same time allowed the design to reflect its roots. Note Godzilla's head here, as opposed to the huge, boxy noggin of Centropolis-zilla. That's the little head of Godzilla we all know and love. I love the spiky tail and the way the arms just barely clear the ground as well.
Garage kit builders will be pleased to hear that this piece has been released as a kit. Check out Tony's site for details ...
Check out the Menagerie site by clicking above, or reach Tony at:
Menagerie Productions
535 Alabama Street
San Francisco, CA 94110
Ph: 1-415-861-2570
Fx: 1-415-861-8259

Page-relevant Links

The Doll and Hobby Shoppe -- a hobby shop that carries many of Tony's non-dinosaur items at a slight but very welcome discount.
Navigating Links

Back to Megalania Dinosaur Modeling Page

Back to Megalania Modeling Page

Back to Megalania Home Page