MEGALANIA REVIEW PAGE
LIVING RESIN PRODUCTIONS
All models copyright Matt Manit. All images copyright Larry Dunn.

WHAT'S HERE:
A review of some of the resin sculptures available from Matt Manit's Living Resin Productions.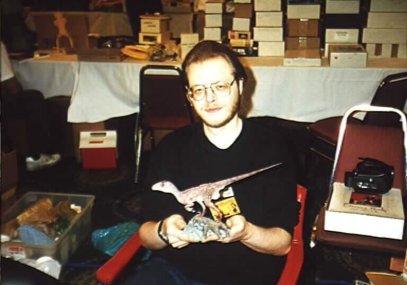 Matt Manit at Wonderfest '98 holding his beautiful Deinonychus sculpture -- my photos can't begin to do justice to this beauty (and the model is nice too).
This Megalania page has been visited times since May 22, 1998.
Matt Manit in a sculptor and manufacturer of resin dinosaur, science fiction and fantasy figures. Unlike the dinosaurs sculpted by artists who also provide sci-fi and fantasy figures, Matt's dinosaur models are not fantasy interpretations of the real thing, but are meticulously researched and conservatively posed representations of the animals, thereby breathing life into them. These are not movie monsters but very plausible restorations of the subjects.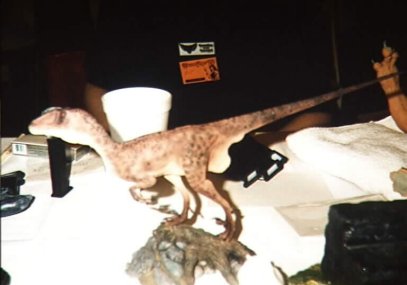 Unfortunately, my bad photo cannot begin to show the beautiful pebbly skin recreated on this sculpture. The head and body shape result from careful review of skeletal reconstructions and discussions with leading paleolife artists. When I suggested several subjects for future projects (including my pet obsession, Postosuchus), Matt agreed that the projects sounded interesting, BUT bemoaned the lack of good skeletal reference materials for many of the animals I had mentioned! This is a good thing -- Matt cares about doing justice to the truth of the animal.
The model itself is cleanly cast in, if I've counted correctly, eleven pieces (including a handsome gnarled tree-root base). The dinosaur is sculpted in 1/8th scale.
Next for Matt will be a Protoceratops -- he had the original sculpture at Wonderfest and it is simply gorgeous! Once again my shabby photography robs you of quite a sight -- no other dinosaur sculptures made available to the modeler exhibit such meticulous attention to skin texture.
Matt will be the sculptor for the Necroteros draconis sculpture to be offered by Frank Cahall's Fatman Productions -- good news for fans of mythological reptiles.
At the time of this page's construction, Matt's Deinonychus was available for purchase for only $85.00 (Wonderfest price -- check with Matt for current price) and other pieces will be added to the list. Matt's considering restoring Plateosaurus and/or an Iguanodon in 1/20th scale next, exciting subjects for the real dinosaur enthusiast. A large-scale Carnotaurus may follow.
If you're not a modeler but want a terrific and accurate Deinonychus sculpture for display or classroom use, Matt may be able to build one up for you or recommend someone who can. Reach him at:
Living Resin Productions
117 N. Indiana Avenue
Goshen, IN 46526
Phone: 219-534-6546
Very highly recommended. Thanks to Matt for providing such excellent items.
Page-relevant Links


E-mail Matt Manit! He's happy to answer questions about his work.
Navigating Links

Back to Megalania Dinosaur Modeling Page

Back to Megalania Modeling Page

Back to Megalania Wonderfest '98 Page

Back to Megalania Home Page