MEGALANIA DINOSAUR MODELING PAGES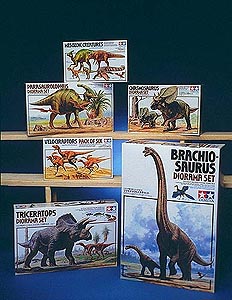 WHAT'S HERE:
Models of dinosaurs and other prehistoric animals in resin, vinyl, styrene, or whatever other material the manufacturer can conjure up!
UPDATE: August 24, 1998
This Megalania page has been visited times since February 19, 1998.

DINOSAUR MODELING PAGES
Model Reviews
NEWLY UPDATED!

Menagerie Productions: Tony McVey's superb dinosaur sculptures in various scales.
NEW!

Maximos Salas's terrific Thylacosmilus ferox, the sabertoothed marsupial that stalked the Miocene pampas!
NEWLY UPDATED! (Added price and size)

David Krentz makes quite a splash into the dinosaur model market with his big, gorgeous Gorgosaurus libratus

The Dinosaur Studio: strictly accurate dinosaur models in 1/10th and 1/35th scales -- get these great pieces at sale prices while they last!


Matt Manit bursts onto the dinosaur sculpture scene with a beautiful new piece -- a strictly accurate Deinonychus!

My review of the Wonderfest '98 show with a heavy emphasis on dinosaur kits (plus sci-fi and fantasy topics).

A link page bringing you right through the doorstep to Kaiyodo's new Dinoland online page. Don't let its humble beginnings fool you -- this company has a huge line of prehistoric models.

A review of The Prehistoric Times, the popular magazine devoted to dinosaur models, toys and other collector's items.

Ray Rimell's new book "Building and Painting Model Dinosaurs" -- right up our alley!

Geraths Illustration and Sculpture: Dana Geraths provides really interesting subjects in a variety of scales.

Trcic Studio: dynamic dinosaur models in 1/10th and 1/35th scales

Wiccart: Wiccart's Steve Harvey specializes in resin models of the skulls of prehistoric reptiles, so naturally I review his solitary life restoration, of a fish. A very big fish.
Navigating Links

Back to Megalania Modeling Page

Back to Megalania Dinosaur Page

Back to Megalania Home Page