MEGALANIA PREVIEW PAGE
FATMAN PRODUCTIONS
All images copyright Frank Cahall -- used with permission.

WHAT'S HERE:
A preview of an upcoming resin garage kit of a terrific dragon coming to us from Frank Cahall, the "Fatman."
This Megalania page has been visited times since March 18, 1998.
Anyone familiar with the garage kit hobby knows that, although you can't have enough storage space for the legions of Predator and Alien kits produced over the past fifteen years or so, you'd have a hard time finding one or two good kits of a dragon -- that most basic and universal of all great monsters from the darker side of the imagination.
Sure, there's the big vinyl Red Dragon of Krynn by Screamin', but it is in my opinion less than impressive. Sure, there's the new Draco vinyl kit by Revell Monogram, but the nightmares it causes are of the building variety and in any event it is a "nice guy" dragon. Sure, Grenadier Models made a terrific dragon "miniature" -- their Teronus lead piece -- that was great and huge (for a "miniature"), but Grenadier is gone now, and even if you can get one, it's still only about 7" tall -- small for the figures hobbyist.
Luckily someone has finally taken the initiative and started work on a large, vicious dragon, a kit in resin. Frank Cahall, known and loved by millions (well, ok, hundreds) as the "Fatman" of Fatman Productions, will be coordinating production of a dragon he calls Necroteros Draconis that firmly plugs the yawning gap in resin dragon kits. Frank has made the concept sketches available to me, and I'm passing them on to you: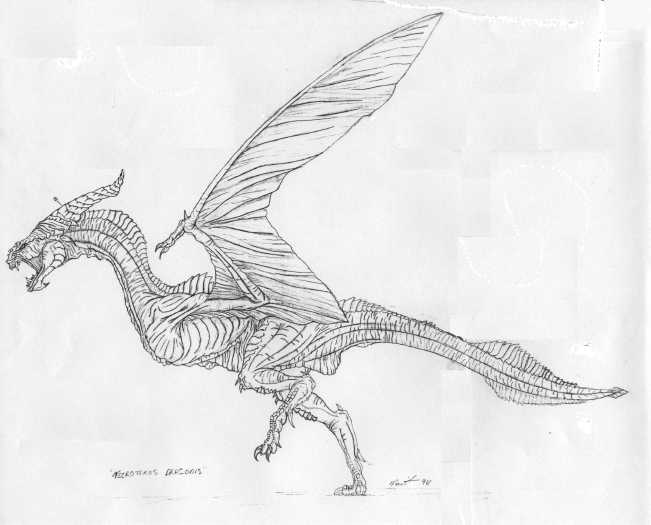 Here's an alternative head concept sketch: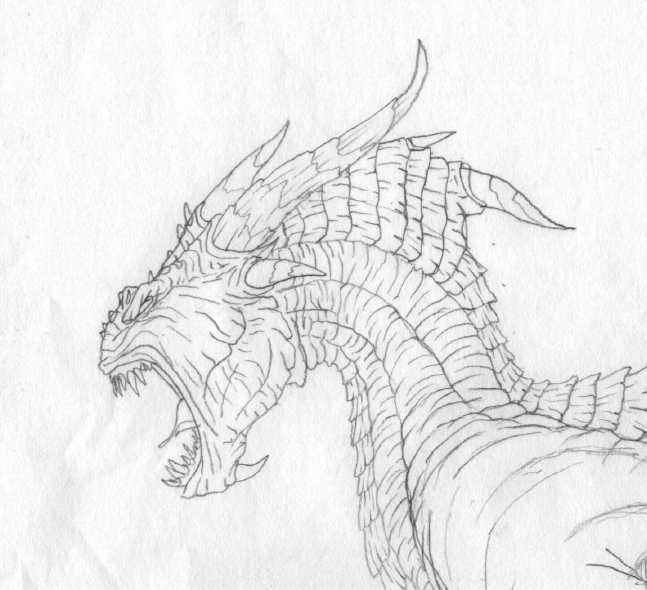 This is a fabulous-looking dragon; it's powerful, arrogant, of vast intelligence and bottomless malevolence. This dragon would eat Draco for lunch. Bring him on, Frank! At about 1/15th scale, he'll be 19.5 inches long and 14 inches tall. That makes him about 25 feet long in real life. Nice size! Price should be no more than $150.00 or so -- and Frank wants to bring that down.
Sculpting will be done by Matt Manit (who also produced the terrific concept sketches above), says Frank, and the molds will be produced by "Fleagore." The Fatman himself will cast up the kits. The company that will be taking the orders (I'll post details at a future date) takes plastic so you can even add him to your pile of credit card debt. This conspiracy plans to unleash Necroteros Draconis on an unsuspecting world during the fall hobby season -- in time for Reznhedz and the fall Chiller show. It will be a limited edition; only 50 Necroteros Draconis's will stalk the earth, and then that's it.
Frank, put one aside for me or I will hunt you down . . . .
Keep an eye on this page for updates.
By the way, I'm not associated with this venture in any respect.
Page-relevant Links

Mail Frank Cahall and let him know what you think of this new piece. Hey, speak up! Frank needs to know you like the piece. Let's encourage people bold enough to stick their necks out and give us a wicked dragon for a change! We certainly can't rely on the big model companies to take the risk.
Navigating Links

Back to Megalania SciFi/Fantasy Modeling Page

Back to Megalania Modeling Page

Back to Megalania Home Page