MEGALANIA REVIEW PAGE
WONDERFEST '98 -- THE VENDORS
All images copyright Larry Dunn.

WHAT'S HERE:
A peek at a select few vendors at Wonderfest '98 whose goods I felt like photographing! My bias is showing pretty heavily here, folks -- many superb new pieces were foolishly, insanely ignored.
Bill Weiger's amazing lifesize Velociraptor mongoliensis welcomes you to the dealer area.

This Megalania page has been visited times since May 23, 1998.

FALLING STAR PRODUCTIONS
Bill Weiger is an amazing talent who's not afraid to work in really huge scales. In addition to the gargantuan dinosaur sculptures shown below, he had some very impressive busts of big cats, a dead-on likeness of John Wayne and an assortment of other nice pieces. He wasn't selling anything as far as I could tell, but hopefully will be soon.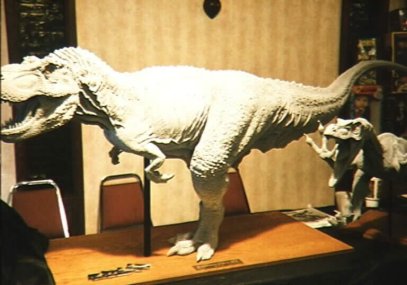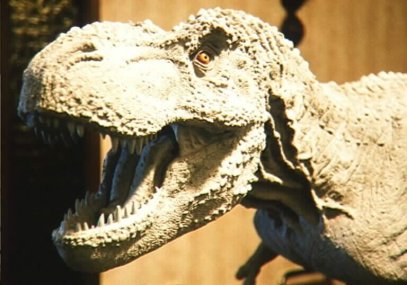 Two views of Weiger's 1/5th scale Tyrannosaurus rex. Just plain big. Just plain gorgeous (in a hulking carnivorous way).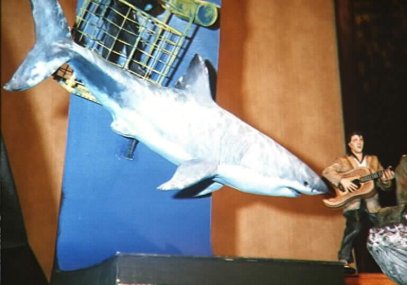 Message to all people interested in sculpting a Great White Shark. This is what one looks like! Sadly, Bill did not have this for sale, but will hopefully chop it up to be molded or will do a similar one for market. This one seems bent on devouring Elvis, apparently unaware of the toxins involved.

LIVING RESIN PRODUCTIONS To see an entire page dedicated to Matt Manit's beautiful dinosaur pieces on sale at Wonderfest, click

ANUBIS PRODUCTIONS
Paul Francis had his neat sci-fi ships and other craft at the show. These build up great and are very good buys for their size!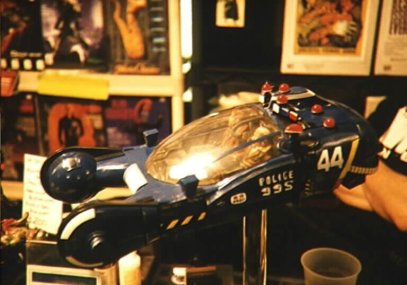 Here's a futuristic police car complete with fuzz inside which looks a lot like the police car in a certain film noir Harrison Ford thriller!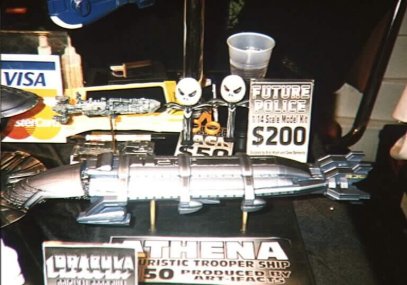 This is the ATHENA, one of the new vessels glimpsed at the end of STARSHIP TROOPERS -- a terrific design well-captured here. I couldn't resist and picked one up. In the frame you can see some other Anubis stuff too.

JANUS
I met Tom "Servo" Seiler at Janus's table, and got to see his impressive little sculptures of the 'bots from Mystery Science Theater 3000.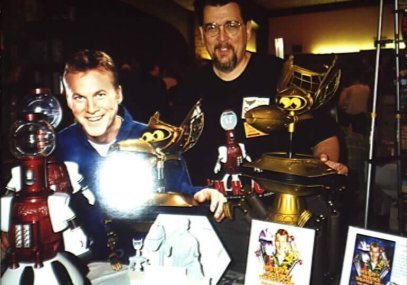 The lovely and talented Tom Seiler poses with some lifesize MST3K bots and the Janus kit he sculpted the 'bots for. Tom's the one in the glasses. (Note the sci-fi action as Crow T. Robot backs away in horror from a mysterious fireball!)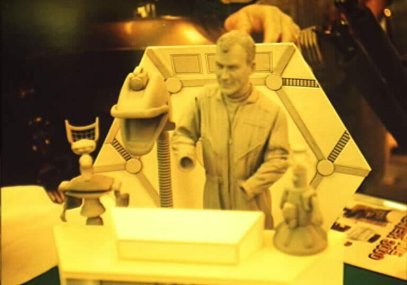 A "better" view of the kit itself (I'm clearly not a photographer). I was assured that, eventually, Mike Nelson will have hands.

SHAWN NAGLE
Shawn Nagle was in attendance. His pieces are really dynamic. He mentioned that he was considering doing a kit of a lion chasing a hyaena and a kit of a charging rhinoceros, both extremely welcome things to hear!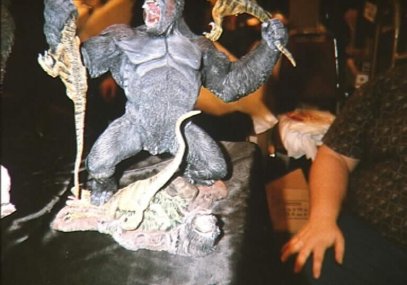 Here's RUMBLE IN THE JUNGLE, Shawn's kongesque gorilla showing a bunch of movie raptors who's boss! I considered it too much of a threat to dinosaurs so I cut off its head.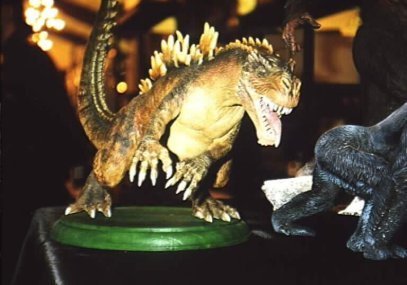 Shawn's sculpture of William Stout's Godzilla concept. A leaner, more dinosaurian Godzilla, it lost out in the Godzilla-remake game, but is still a terrific piece!

PEREZ STUDIOS
Technically not a vendor, but a sculptor with some castings of his work for sale, Dan Perez wowed the crowd with his new alien bug (bearing an uncanny resemblance to the warrior bugs from STARSHIP TROOPERS!).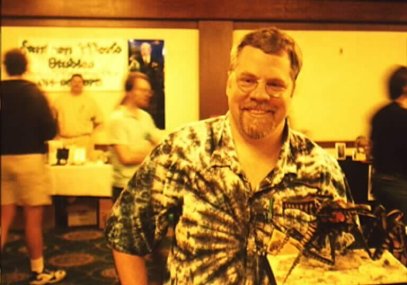 Dan Perez is clearly bugged. His sculpture is a very faithful reproduction of the movie bug, and the kit is nice and big. I scarfed one up!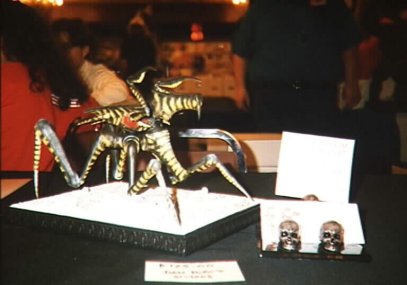 Another "better" view of Dan's single bug.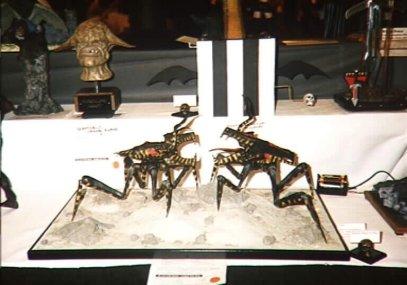 Dan's very impressive contest entry -- a recreation of the great little moment in STARSHIP TROOPERS in which two warriors playfully spar on planet Tango Urilla right before the Terran Fighters wipe them out. Since the bug kit is fully (and I mean FULLY) posable, you can use multiples of the same kit to represent literally dozens of charging bugs (and if you've got the space for that diorama, more power to you).

GREY ZON
Grey Zon is the noggin master -- they offer skulls of everything from Klingons to Godzilla to alien xenomorphs. Here for a change they offer one of those trophy-style heads, this one of the dragon from DRAGONSLAYER. I've heard castings of this aren't perfect, but it certainly builds up impressively if this type of sculpture is your thing. It's HUGE, but I still ask, "where's the rest of the darn thing?"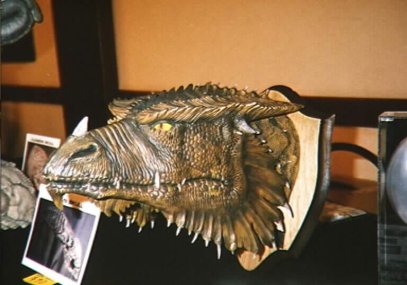 Charlie McGrady Studios
Charlie McGrady! I finally got to meet this extremely talented sculptor. I've always admired his dinosaur work and got to see many of his kits upclose for the first time. I picked up his Phobosuchus sculpture -- this was a forty foot-long crocodile that dragged dinosaurs into the watering hole!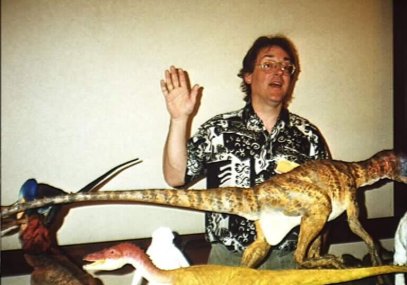 Charle waves from behind a wall of dromaeosaurs.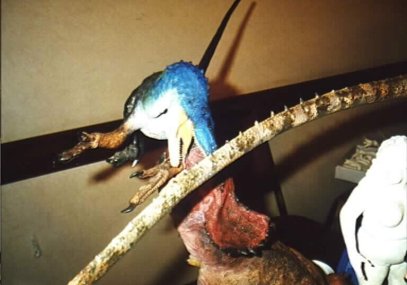 A terrible picture of Charlie's fabulous battling dinosaurs sculpture, with a protoceratops lifting a velociraptor over its head.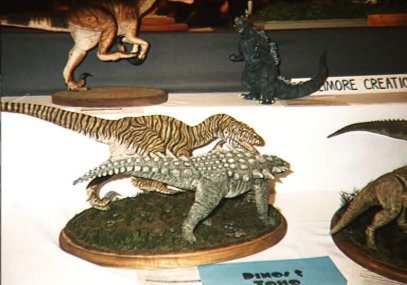 Charlie's Utahraptor goes after an ankylosaur -- this and the following picture were contest submissions.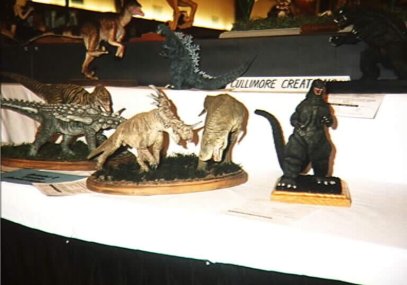 Charlie's Styracosaur fights off a hungry Albertosaurus (a tyrannosaurid smaller than the more familiar Tyrannosaurus rex).

Page-relevant Links
To be added. Vendors please help with e-mail or, preferably, website urls!

Navigating Links

Back to Megalania Wonderfest Page

Back to Megalania Dinosaur Modeling Page

Back to Megalania Sci-fi and Fantasy Modeling Page

Back to Megalania Modeling Page

Back to Megalania Home Page