MEGALANIA REVIEW PAGE
REVELL/MONOGRAM'S 1/72nd SCALE BABYLON 5 STARFURY

WHAT'S HERE:
A review by WICCART'S Steve Harvey of Revellogram's Starfury Space Fighter from Babylon 5.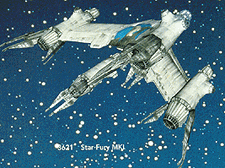 Revellogram's Starfury kit, model and image copyright Revell Monogram.

This Megalania page has been visited times since April 3, 1998.

OK, so I hate Babylon 5. This makes me unpopular in many quarters, but the writing is just too dumb for me to bear. It makes me cringe and fidget until I can stand it no longer.
Can we just agree to disagree on this?
Because I recognize that the new Starfury fighter by Revellogram is important and much-discussed, I offer a review of this by WICCART'S Steve Harvey (who likes the show -- it's required that all Englishmen adore B5), unaltered in any way by me.
I hope it's informative. I, uh, haven't bought one so can't verify any of the above; all opinions are those of Steve Harvey.

First of all, let me say that I am a huge fan of Babylon 5. There is nothing on the tube that comes close, as far as I am concerned. JMS, also known as "The Great Maker" is nothing short of a genius. The scope of this series is huge. Questions asked in the first 10 episodes may not get an answer until episode 89 or 100 and they are important in the continuity of the show. Here is a believable universe, unlike Star Trek. While I liked the characters in ST:TNG, I found the universe quite unbelievable. Mankind is not capable of becoming what Roddenberry envisioned, as much as Iíd like to be proven wrong. B5 will end with series 5. This is not an open ended storyline. It has a start and very complicated middle and a very definite end. Our dear Mr. Dunn says he is not a fan. But then he is a lawyer, so what can you expect?
Anyway, on to the kit review.
The Starfury is the main Earth Alliance workhorse and is one of the first spacecraft off the tube that actually makes sense. It is very functional, and while somewhat extravagant looking and distantly reminiscent of the X-wing from Star Wars, this is a craft that would work.
Revell/Monogramís kit is in 1:72 scale and is pretty good, but has some disappointing problems. First of all, the box is huge and a serious waste of paper. It could easily have been half the size, but I suppose the company wanted valuable hobby shop shelf space. Another disappointing aspect is that it could have been done in either 1:48 (yeah!) or 1:35 which would have opened the door to super-detailing. I am one of those guys that will go nuts on cockpits, but 1:72 is far too small and generally not worth the effort as the detail cannot really be seen.
The box is of the hinged type with full colour illustrations of the four versions you can build on the bottom. The only difference is in the decals and painting options, so do not expect extra parts. Inside the box are two large sprue trees with a total of 55 parts in light gray styrene and one in clear. Detail is raised panel lines and little flash evident until you closely inspect it. The merging of Revell and Monogram seems to have been a compromise. I have always hated Revell kits with their heavy flash and poor detail and found Monogram to be the best North American manufacturer of kits. I had hoped that the merger would have improved Revellís kits, but instead they found some middle ground in the process and lowered Monogramís standards. Very sad.
Fit is an issue with this kit and be prepared to use lots of putty filling gaps. I really wish kit makers would think a little harder about kit breakdown. The "wings" consist of 6 parts with part of the assembly as an inset. If they had thought about this, it should have been two halves joined at the edge, which would have made cleanup of the sub-assembly far easier and making the use of putty minimal. Oh well.
Detail of all engine nozzles is very crisp and their fit is good. The main office (cockpit) is mediocre and could be great with additional detail, but as I said before, 1:72 is just too small. The detail here is soft.
There are two major problems with this kit: The decals and the clear canopy. First of all, the canopy is thick: very thick. I highly recommend making a vacuformed replacement or, as I did, cut out the windows and thin the part considerably and replace the windows with thin clear sheet plastic. I reduced the thickness of the supports by two thirds! If the kit canopy is used, expect to never see the interior again!
The decals are thick and look like they were printed by the local newspaper. The only really useful decals are the Omega Squadron set, which are plain white for a black background. The other options are for the Sea Witch, Presidential Escort and Commander Susan Ivanovaís personal Starfury, or a Standard fighter with no special markings. I chose to go for Ivanovaís personal craft because I really like her character. Now there is a woman with some real attitude!
Assembly is pretty straightforward but, as I said, will require a lot of putty work. I painted mine Light Sea Gray and will heavily weathered it with pastels. These space craft are stored in a vacuum and it is not really possible to seriously clean them. Besides, water is a premium in space and why waste it polishing up a vehicle that is just going to get dirty again. So long as the grime does not interfere with the function, it would become part of the paint job. Also, when watching this amazing show, you can see that the individual craft are pretty grimy.
(Steve: how do spacecraft get dirty? -- Ed.)
All of this said, it is a pretty accurate replica of the Babylon 5 workhorse, but a lot of work needs to go into this kit to get a good model. I built mine as a break from sculpting dinosaurs and to keep my hand in in building plastic kits. As Sci Fi kits go, this is one of the best out there in plastic, which is a pretty sad commentary on the industry. In my humble opinion, the best is the Nostromo by Halcyon, but that is another review -- maybe.
Rating:
Accuracy: Excellent
Quality: Poor
Fit: Poor/good
Overall Rating: Good, but for advanced skills.

Page-relevant Links

E-mail Steve Harvey!

Navigating Links

Back to Megalania SciFi/Fantasy Modeling Page

Back to Megalania Modeling Page

Back to Megalania Home Page