WHAT'S HERE:
Information about upcoming dinosaur artist Truett Garner.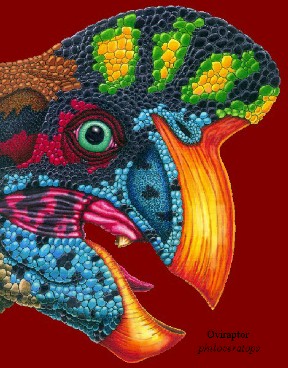 Image of dinosaur Oviraptor philoceratops Copyright 1998 Truett Garner. Used with permission.

This Megalania page has been visited times since April 13, 1998.

Truett Garner has had a passion for dinosaurs and for illustration since his childhood on a farm in 1950's North Carolina. Inspired by the likes of the movie KING KONG, Garner has pursued his dinosaur interest all of his life. A drafter and guitarist, he has recently turned his artistic talents to rendering beautiful illustrations of dinosaurs. The pictures do not lie! Garner renders his dinosaurs with clarity and lifelike virtuosity.
Garner currently lives in North Carolina with his 9 year-old son.
If you are interested in his work and would like to discuss a commission or project with him, Truett Garner may be reached at:
2901 Piney Grove - Wilbon Road
Holly Springs , N.C. 27540
Phone : (919) 557-2289
E-MAIL Truett Garner by clicking HERE!

Navigating Links

Back to Megalania Dinosaur News Page

Back to Megalania Dinosaur Page

Back to Megalania Home Page